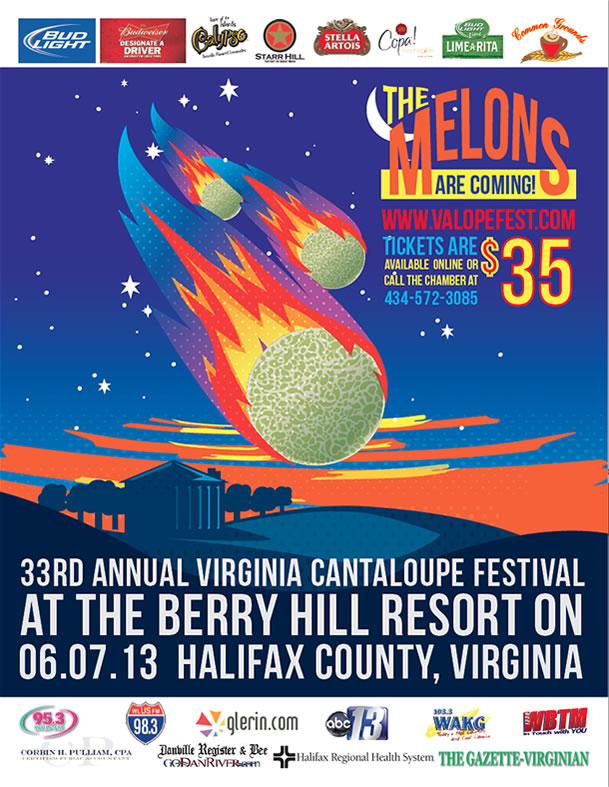 In 2013, the Virginia Cantaloupe Festival was at a crossroads. The festival had lost its luster with many; it hadn't sold out in over 12 years and the marketing committee wanted to do something to shake things up. They made the decision to move the festival from July to June, and from the Halifax County fairgrounds to Berry Hill Resort. There were good reasons for these changes but it created controversy in the community.
We developed a tongue-in-cheek concept "The Melons Are Coming!" for the 2013 festival, a nod to a comment from someone saying, "it's not like we're being invaded by aliens or something!" Our custom illustration was reminiscent of sci-fi posters from the 1950's, and featured cantaloupes as meteorites raining in over Berry Hill Resort.
Our strategy was to promote the festival in a totally new way to attract a younger, hipper crowd. We developed the theme, marketing strategy, and designs including the custom illustrated collectible posters, social media campaigns, and targeted advertising.
The marketing strategy and designs helped The Virginia Cantaloupe Festival ticket sales campaign result in SOLD OUT festivals for the first time in over 12 years.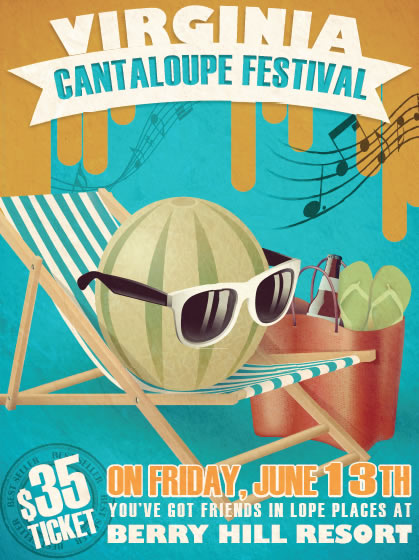 After helping to break the drought in 2013 of over 12 years of non-sold-out festivals, the pressure was on for a successful encore in 2014.
Putting our creative minds together in a marathon brainstorming session, we created the theme "You've Got Friends in Lope Places" for the 2014 Virginia Cantaloupe Festival, and introduced a character we created named "Lope."
Lope was presented as a playboy who could travel the world, but if he had his choice the Virginia Cantaloupe Festival was where he wanted to be.
Along with the custom illustrated collectible poster, we also created print ads and a social media marketing campaign that found Lope appearing in person all over town. You never knew where he would show up next! Below he's seen meeting with the Halifax County Tourism director.
We think the most fun thing of all, though, was putting the Halifax County Chamber of Commerce Director's head on Miley Cyrus' "Wrecking Ball" body in our version - "I Came in Like a Melon Ball."