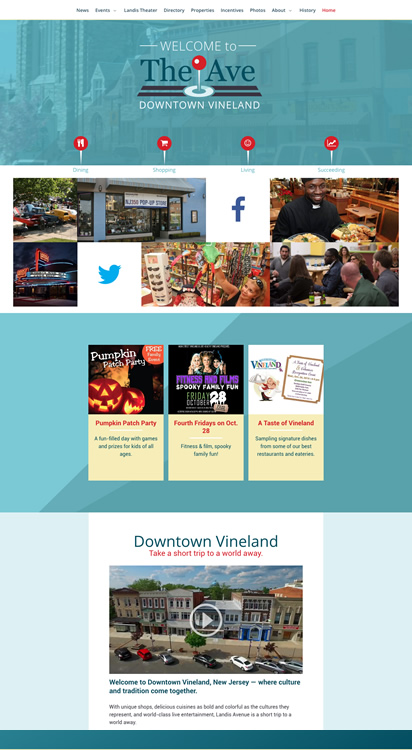 The first thing that anyone notices when entering Vineland is how wide and long Landis Avenue is – 100 feet wide, 1 mile long.
On my first visit to the city last year I was so excited to see diagonal parking all along both sides of the street in the Downtown district, proving that Vineland didn't succumb to the consultants that other towns and cities listened to when they replaced theirs with parallel parking decades ago. Features like that are a real part of history and community, not to mention being visitor-friendly since it provides a lot more parking.
In Vineland's heyday during the 50's and 60's locals always said they were going to "the Avenue" rather than downtown, so it was natural that this become the centerpiece of the new brand, both visually and by name, though shortened to "The Ave."
Executive Director Russell Swanson unveiled the new brand during a gala at the beautifully renovated art deco Landis Theater, one of Vineland's landmarks. Russell said, "The brand really represents how we want to position our downtown — how we want to market it, how we see it being marketed to other people — whether it's for business recruitment efforts or for people who want to live downtown."
The gala was a celebration of the culmination of a year-long project that began with Main Street New Jersey awarding Main Street Vineland/VDID a Branding and Digital Design grant to work with Glerin on the rebranding and marketing strategy for Landis Avenue. The other grant recipient was Downtown Westfield Corporation.
The responsive website design includes features such as a searchable categorized business directory, Available Properties listings, a donation system that processes both one-time and recurring donations, and embedded Facebook page activity stream and photo gallery.