We've all heard the saying "beware the cost of the lowest price," and this also applies in design. The best option doesn't necessarily have the highest price, but often the lowest priced option has the highest cost. "How?," you ask... Let me share an experience I had today, and how poor usability cost Walmart a sale. Add enough of these sales up and it could be a substantial chunk of change, even for a company of that size.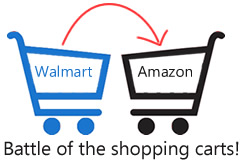 First off, remember that price is the sticker price of an item but true cost is arrived at by combining that price with what you stand to lose in sales, time, goodwill, efficiency, etc.
We needed an item for the office that wasn't available locally so I decided to order online. I was on the road and a quick search on my phone gave the exact item I wanted for $99 at Walmart's online store. Being in a hurry, I was prepared to order without shopping around. The problem arose with the poor design of their mobile checkout process and Walmart's sale became Amazon's sale.
I chose the free "ship to store" option but in the next step found that the item wouldn't arrive until near the end of the month; the initial shipping options step didn't show the prices of the various paid options, so I went back to change to standard shipping to check the price & see how much quicker I could get it. The mobile checkout process didn't have the option of changing the shipping choice after it had been selected. I couldn't even select a new choice if I deleted the item from the cart and then re-added it.