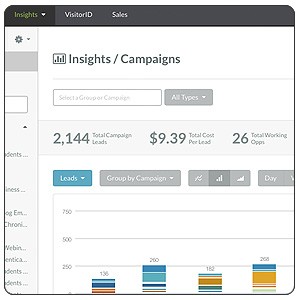 We know how exhilarating it can be to see your website traffic numbers climbing, but we also know those numbers really mean nothing.
The only numbers that are really important to your bottom line (unless you sell advertising on your site) are how many site visitors turn into leads, and how many of those turn into sales.
Wouldn't it be awesome if you could see real time info on exactly which pages each visitor opened, what they clicked on, and even some intel on who they are? See when they come back and which pages they're returning to? And if you could integrate all that info into a customer relationship management system and automated email marketing it would be even better.
Now you can! We're excited to announce that, beginning in April, we'll be offering powerful inbound marketing tools to help you drive more leads, convert those leads to sales, and automate your workflows to maximize your marketing potential. All the details will be released in April, but we wanted to give our mailing list a sneak preview.
Some of the benefits of our software include:
Drive more leads by identifying the 98% of traffic that visits but isn't quite ready to buy yet
Analyze which content is actually generating the best leads
Use our SEO tools to strengthen overall strategy
Give your sales team the intelligence that's critical for them to close more deals
Help adjust your sales strategies based on actionable data
Save time and money, and streamline your workflows
Visitor identification will help put users into the correct sales funnel,

If John Doe visits your site and explores all of the key pages you want a prospect to visit, shouldn't you know about it? Just because he doesn't fill out a form, it doesn't mean he may not be a good customer fit. Our new tool shows you statistics on each visitor that will help play a defining role in your sales process. The system will gather data including company, email and pages visited, and will give you vital information to help determine if the user is ready to be put into one of your sales funnels.

The information provided will be great for both your marketing and sales teams. Your sales department will now have business intelligence on each lead that could make the difference in closing a sale, and your marketing department will be able to determine which content is performing best to help generate quality leads for the sales team.


Marketing automation to simplify your life and save you time and money.

Marketing automation is critical because each lead that slips by means a loss of potential revenues. Automation will ensure you're staying on top of each prospect, providing them with the appropriate information at the appropriate time to keep them tuned in. Our toolset can be used to create automated marketing campaigns that are triggered based on specific user behaviors.

Put an end to "email blasts" and start conversations that lead to conversions. Go beyond the functionality of traditional email service providers with "after-the-click" tracking for truly personal messaging. Send every lead just the right information at critical points in their unique buying process and notify salespeople to act at just the right time.

A few ways to use automation:
Send an email to a user who has visited key pages.
Send an email to a user who has filled out a form.
Send an email to a user who has been idle for a while and needs to be refreshed on your services.
Send an email to your sales team to notify them of a lead who seems interested in their department.


360 degree customer relationship management CRM component to keep your leads organized

The icing on the cake is the CRM component. A new 360 degree view of your customer! This toolset provides the perfect place for you to organize your prospects, leads and customers. If you're already using a CRM like Salesforce, you can always two-way sync data between our system and the third-party CRM.

Explore a lead's social links directly from the Contact Manager to gain a 360˚ understanding of their interests. Leverage social media to better engage and create conversions from connections. Strategically grow your network with social automation rules.

Track opportunities from creation to close with a bird's eye view in Pipeline. Create custom deal stages, fields, filters and more to manage your unique sales process.

Your salespeople will have critical information at their fingertips to help them close deals. And with the sales analytics you'll know exactly why deals are closing or why they're falling off the pipeline. Then you can adjust and optimize accordingly.


Real time campaign analytics to stay on top of your site's performance and optimize results

The final, and possibly most important component of this new system is analytics. If you aren't testing the campaigns you're putting into practice, how will you know what is actually working best?

Make key decisions with accurate and relevant data. Slice and dice powerful metrics into customized reports. Understand end-to-end ROI and share key information with your team, clients and customers.

Access to all form, site and visitor analytics will give you all of the information you need to determine whether or not updates need to be made. Even the best content needs to be updated at certain intervals to maintain freshness.

The analytics will also give you insight as to what search terms and content are bringing the most traffic to your site. You can capitalize on this critical information to help drive more traffic
One of the things we're most excited about is that we'll be able to offer this system at a very affordable price without long term contracts.
Unlike most inbound marketing systems, the pricing for our tool doesn't increase according to how many contacts you have or how many emails you send. And if you're already an email marketing customer of ours, we can migrate your email marketing to this system and the amount you're now paying for email marketing will go towards the new tools!
Our existing customers will get first dibs on the opportunity to begin using the system. Let us know if you're interested in learning more about this exciting new capability, and we'll set up a demo for you after we go live.
Cheers!