If you prefer reading to watching a video, a transcript is below.
Here at Glerin we like to keep things simple, so I want to share with you a short formula that can help improve your marketing.
We call it the Math of Perception.
That formula is Attract + Assure = Success, and it will be true of any successful marketing campaign out there – whether it's a business selling a product or a person looking for a relationship.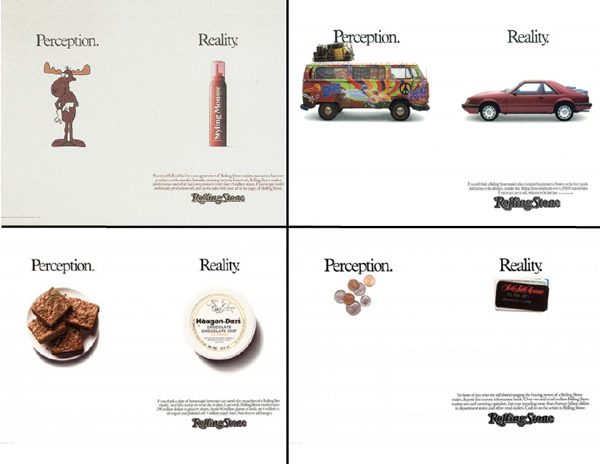 Let's look at one of my favorite marketing campaigns ever – Rolling Stone's Perception vs Reality. In the early 80's their advertising revenue was suffering because advertisers perceived their reader base as aging hippies who had no money to spend. This campaign is beautifully simple, but extremely effective. Advertising sales increased 47% the first year, and the campaign ran throughout the decade with over 60 different ads.
It's easy to see the Math of Perception in these four ads:
The ads' simplicity ATTRACTS people,
and the paragraph below each Reality photo ASSURES companies in a specific target market by speaking directly to them about readers' expenditures in that product category.
When you have both parts of the equation – Attract and Assure – it makes it easier to do 3 things:
Generate sales.
Secure funding, and
Control expenses.
Let's look at each benefit.
Easier to generate sales.
The better job you do of attracting your target market and assuring them that you're a good choice, the easier it is to make the sale. For example: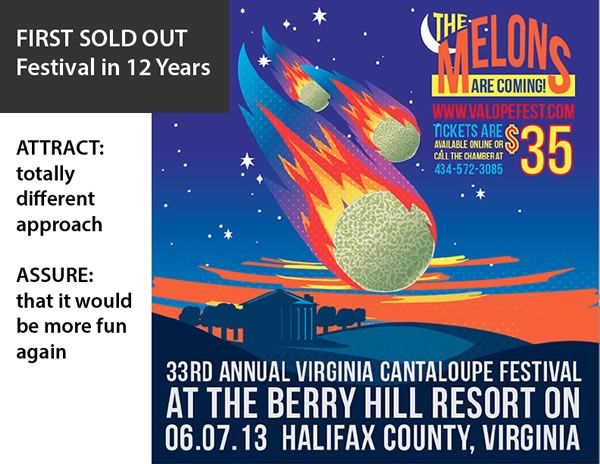 The Virginia Cantaloupe Festival had long been held in the same location, and when it was changed that created controversy. Some people thought that having the festival at Berry Hill Resort meant that the festival would be stuffy and upper crust. We created a sci-fi style campaign - "The Melons are Coming" - that got attention because it was so unique. Since the style felt exciting and new, it helped assure people that the festival would be fun and worth buying a ticket for. The result was the first sold out festival in 12 years.
Easier to secure funding.
Most companies don't think of seeking venture capital, relocation incentives, or loans as marketing, but the reality is you need to gain people's interest before you can effectively pitch to them. If your pitch then assures them that you're a good bet, you're more likely to get that funding. It's critical that you look at them as a target market, and develop a pitch, presentation, and supporting materials that inspire them to believe in you.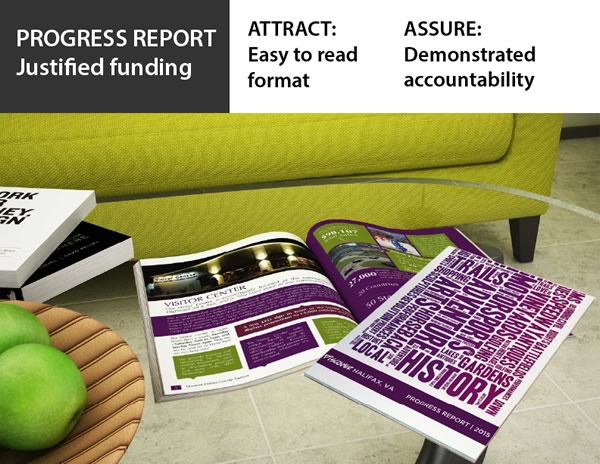 For example, a Tourism client wanted to demonstrate accountability for funds the organization had received over the last 5 years. We created a 5-year progress report in the form of a magazine, with content broken up into easy-to-digest chunks. The format attracted attention and made it more likely it would be read. The data presented assured officials that benefits are being realized, and that the organization has been a good steward of the resources received. Demonstrating accountability makes it more likely that they will receive funding in the future
Easier to control expenses.
It's pretty obvious that if it's easier to make a sale you'll spend less money selling. It's also a fact that it costs less to keep a current customer than to land a new one.
It's not just about product sales, though. If you're able to get certain types of funding you can use other people's money and save your own. In some cases you may also be able to have smoother approvals processes.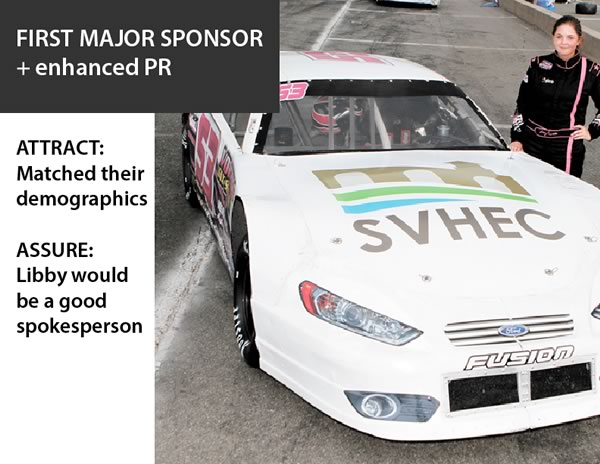 We were approached by a teenage racecar driver who was moving up to the next level of racing. Her family had always paid for the team, but racing in the new division was much more expensive and she needed a major sponsor. We had just created a new brand for the Southern VA Higher Education Center and they wanted a unique way to unveil it. We attracted them by showing that the driver was in the sweet spot for their demographics – she was actually planning on studying at SVHEC the next fall.
After meeting with the driver and her mother, the school was assured that she would be a good spokesperson. She picked up her first major sponsor, and with the rollout of the new brand, they sponsored a race at the Speedway and ran the logo on the hood of her car, and she became the face of SVHEC.
You can't just think about this formula once and forget it, though.
Take Chipotle as an example. They had already attracted a huge customer base, but their response to outbreaks of E-coli and Norovirus failed to assure customers that they wouldn't get sick. Their case flips the formula, in that their failure to Assure lead to a failure to Attract. They literally lost customers who had been enjoying eating there regularly, and they now have to go through the process of attracting and assuring them to regain them as customers.
Hopefully now you'll be able to apply our Math of Perception formula to your own marketing.
Analyze your marketing materials and ask yourself:
Do they ATTRACT the target market that you want, and do they ASSURE that target market?
I want to end on this thought, though: your assurance needs to be genuine. If you mislead customers with promises you can't keep you WILL lose those customers.
Now go Attract and Assure and share your success with me! Let me know in the comments below, or through Twitter, Instagram (@glerincreates) or Facebook.