Less stress. More time. Better clients.
We'll help you use your website & online tools to have all 3, with NO gobbledygook.
When you own your own business, there's never enough time in the day. You battle the feast and famine of finding good clients, and stress keeps building.
The only way out seems to be hiring more people, but that's another heavy load to carry and will just add to your stress. The rat wheel starts all over again and you just can't get off.
What if you could delegate in a way that didn't mean hiring employees or outsourcing work, though?
You can, and it's called using technology.
The problem is, if you don't know what to use and how to use it you can waste thousands of dollars and hundreds of hours.
Glerin's Guerilla RampUp™ will transform your website from a glorified brochure to the hardest working member of your business in just 1 week.
PLUS, you get an hour a month of free follow-up consulting for 6 months to help make sure you're on the right track!
3 of the many ways you can benefit:
understand your online options and which are best for you,
automate marketing processes to help you get better clients and save thousands a year in advertising costs, and
save hours each week so you have more time to work ON the business instead of IN it - or to just relax.
Just think, 1 week from now you can be at the beginning of a new day for your business! Or not.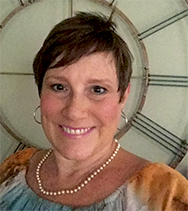 Hi! I'm Lisa Kipps-Brown, founder of Glerin. I've been helping business owners like you use the power of the web to reach their goals since 1996.
During this time I've seen every internet marketing fad that's come and gone, and even sold an online business to a dot-com just before the bubble burst.
I created our intensive Guerilla RampUp™ process to help you learn how to use the web strategically to save time, increase profits, avoid costly mistakes, and take control of your life.
Even if someone else is designing your site, you need a solid strategy first.