Why we developed the Guerilla RampUp™ process, and how we work.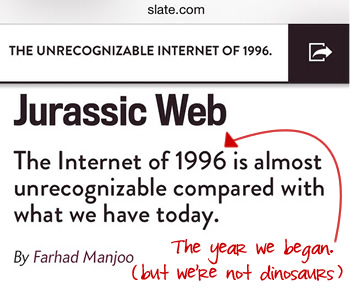 We've been in this business a long time, since 1996. That's like forever in the internet age. And although the internet has changed drastically since we started, the bane of our existence has remained the same: dealing with website projects that drag out for months and months due to indecisive clients who don't commit the resources to finish.
There's absolutely no reason for the average web project to take the length of time that most do but, as with most things, they expand to take up the time available.
We want you up and running, though! Dragging it out for months won't help you reach your goals, and every day added to a project is a lost opportunity.
Guerilla RampUp™ is an intensive process designed to dig out your asymmetric advantage so you're the only viable option for your perfect client. We then take that asymmetric advantage and develop everything you need to start transforming your business immediately. It's focused, strategic, and short - everything done in no more than 5 days.
It isn't for everyone, though. If you're a waffler, afraid of change, or just looking to drive tons of traffic, we won't be a good fit for each other. But if you're decisive and confident, seriously want to use the web to improve your business, and don't want to drag things out over months in a traditional web design project, most likely we'll work well together.
One of the nice things about the Brand Ops Brief phase is that it lets us get to know each other before either of us makes too big of a commitment. You come out with a Brand Ops Brief that you can use to make changes yourself, hire another designer/developer, or move forward with us to Phase 2 - the RampUp. And we haven't had to worry about being sucked into a black hole project.
A few things about how we work:
We work directly with up to 2 decision makers during the RampUp™, not a subordinate who would be a go-between.
Projects cover a distinct time period, 1 to 5 days.
Every project begins with a Brand Ops Brief so we can develop your asymmetric advantage and recommended actions.
Meetings can be done via phone, Skype, or in-person at our office in Halifax, Virginia.
We don't respond to RFP's.
We don't work with committees.
Our clients are small businesses that offer premium-priced services or products.
If you're just looking for a designer who'll "make you a website," there are plenty of other designers who can create something that looks good.
If you're serious about wanting to exploit our 21+ years of entrepreneurial and internet experience to help reinvent your business, though, a Brand Ops Brief is your first step in working with us.