Glerin is a full service design, branding, and strategy firm. But it all begins with design.
"Isn't design just prettying things up?" you might ask. Well, is a vacation just packing your clothes?
Design-oriented organizations invest in thinking this stuff through. They put design at the heart of their company to guide innovation and to continually improve products, service and marketing. They recognize that a great design leads to differentiation, customer loyalty and higher profits.

-- Forbes.com,
"Welcome to the Era of Design"
Design
Design is more than just how it looks and feels. To quote Steve Jobs, "Design is how it works."
Does it delight? Or does it frustrate? Does it anticipate, or does it infuriate? And 'it' covers everything from what your logo looks like to how you answer the phones. Design is both a process that helps us think about all those 'its' and also a framework of tried and true principles for making things that work well.
Branding Identity
You know who you are, but do your customers?
Your identity is everything about your brand from what you say to how you say it. It's more than just a logo, though it often starts there. It's the story you tell the public — an honest one about who you are, how you do business, and who with. We can make sure you really say what you want to say and what your customers want to hear.
It's like dating: If you want to find good matches you have to be honest about who you are. You can only fake it for so long.
Websites
You know you've got to have one — it's a modern business necessity. We've been building them since 1996, when the web was young. For 99% of our customers, we use the open source content management system Joomla, which allows you to update your site's content (words and pictures) easily in a browser window, anytime from anywhere with a screen and an internet connection.
Millions of sites the world over run on Joomla, including Leonardo DiCaprio's official website and Barnes & Noble's Nook developer site.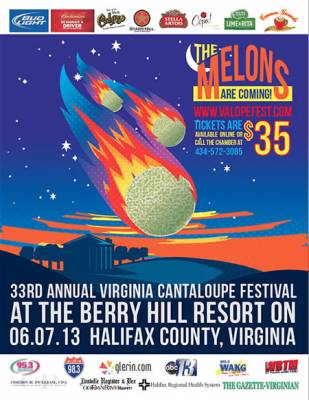 Illustration
Our talented artists can create custom illustrations for any need you may have - posters, greeting cards, invitations, advertisements, book covers, promotional products, you name it. We've created unique, attention-getting illustrations for clients like the Virginia Cantaloupe Festival who want to stand out from the crowd. Anyone can blend in, so why should you?
Print
Business cards and letterhead to annual reports, brochures, folders and mass mailers — paper products are still prominent in business today. Not everything can be a tweet or an iPad app. Sometimes you need good hardcopy and lots of it to get the message out. We do that.
Marketing
From editorial calendars to content strategy, Facebook campaigns to Google Adwords, and radio spots to YouTube videos, it's about telling your story and earning business. We can do it piece by piece, though we love integrated campaigns where all your communication sings in harmony. Our ideas are imaginative and our strategies are goal-oriented and data-driven.
SEO
It's not black magic, trickery or gaming the system. It all boils down to good publishing practices and we provide simple guidelines to make sure you're being digitally savvy.