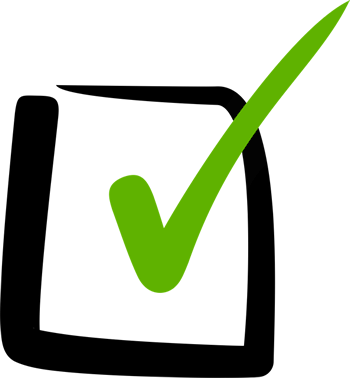 The easiest way to start working with us is with a Website Audit; it's a small investment that can also be applied to a future project, is 100% guaranteed, and might be all you need to help turn things around. It gives us a chance to recommend real changes you can make to help get more leads and better customers from your website. We can also get acquainted and get a feel for whether we might be a good fit to work together on a larger project.
If you prefer to move ahead to talking about a larger project, though, here's our Baker's Dozen Web Project Compatability Checklist to help you decide whether you should go to the next step of applying to work with us.
Please be honest with yourself when considering each item.
We may be a good match if you:
Know you need strategic advice, and actually want and will accept it.
Want that advice based on real business experience, not on what somebody read in a book.
Have a long sales cycle for big-ticket items (we're not into driving traffic to sell 1000 widgets/day).
Understand the web should be an integrated part of your business, and are willing to be open-minded about online tools we may recommend.
Realize the web can be transformative and want to capitalize on it, but know success won't be overnight.
Understand that a website isn't "set it and forget it."
Aren't looking for an order taker, someone who just does what you say.
Want to work with someone who can understand the big picture for your business.
Want someone who understands the evolution of the web, to help prepare you for the future.
Want someone who'll ask questions you may not even know need asking.
Will designate one person as a point of contact who can make executive decisions, or will commit to doing it yourself.
Are willing to declare a realistic budget, meaning anywhere from $10k to $120k for a website, depending on your requirements (just like buying a house, differences that may seem small can increase costs significantly).
Are willing to make the commitment of time and resources required to really make a difference in your business.
If you sincerely agree with each of the above points, there's a good chance we might be suited to work with each other. You can complete our Client Partner application to go to the next step.
If you don't agree with each of the above points, we're not a good match to work together. You may want to consider working with freelancers or with web designers who don't develop business strategy and will just produce a site based on what you tell them you want to do. Or, you could even create your own site through a service like Squarespace. We'll both save a lot of grief by not trying to force a match. Thanks for your interest, though, and if your circumstances ever change you could come back and submit an application.